CBU Softball, ready for spring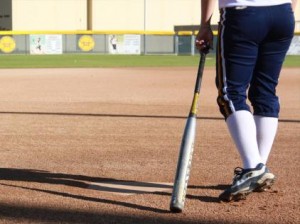 As the women of California Baptist University softball team prepare for the last season in the National Association of Intercollegiate Athletics (NAIA), more preparation for just another season of softball is happening – they are preparing to leave the NAIA as national champions.
The CBU softball program, under Coach Mike Smith and Coach Bill Baber, has been known as a force to be reckoned with. During the 2010 season the Lancers lost only two games. Coach Smith explained that he wished they had lost more before the national championship because the team was not used to it and when they did lose, it dismembered the teams morale causing them to make mistakes.
Along with trying to strengthen the girls' mental strength against unexpected but possible losses, Smith focuses on the fundamentals of the game.
He emphasized that when a team has the fundamentals and mechanics down for a game, everything else comes more fluidly.
The softball team has been playing inter-squad games and Coach Smith said, "The girls are just anxious to play someone else. They want to see a different color and a different logo."
The team was undefeated for the fall, beating their Division I competitor, University of Nevada, Las Vegas (UNLV). According to 16 polls, the CBU softball program is the winningest four year university program at 401-51 leading the University of California, Los Angeles who had 332-85.
Coach Smith also believes that the switch from the NAIA into National Collegiate Athletic Association (NCAA) division II is a great thing for CBU's athletic program and will help a lot with recruiting.
"Everyone has heard of the NCAA but not as many people have heard of the NAIA. So it will be great for recruiting," Smith said.
Among the many positives of becoming part of the NCAA there are also concerns that were brought up. Smith wonders how travelling is going to affect his athletes. As a part of the NAIA, the team travels only 45 minutes to their farthest opponent but next season when they are officially a part of the NCAA, they will travel four and a half hours to their closest opponent.
As Nov. 19 was the last day of fall practice the team got to relax briefly during the week of Thanksgiving. Now they are back to preparing to leave the NAIA with a bang and with another national championship under their belt.