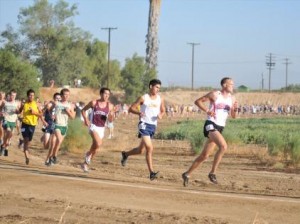 The season began with a time of great personal loss for the California Baptist University Cross Country team.
By the end of the season, the team overcame as they collected several personal honors and broke many team records.
This year's team persevered through the pain of the pre-season auto accident resulting in the death of cheer coach Wendy Rice. Though this shook the team from the start, they went on to have a season filled with tremendous achievements.
"Almost every school record was broken by our squad this year," Head coach Wade Watkins said.
The mens squad featured three runners who earned All-Golden State Athletic Conference (GSAC) honors as top student runners.
Jacquie Lutz also had a great season for the women, setting the top individual time in CBU womens cross country history and earning the prestigious title of Scholar Athlete.
Lutz earned the Scholar Athlete award due to her outstanding running and impressive 3.9 GPA. She gives all credit to Christ quoting Colossians 3:23.
"Whatever you do, work at it with all your heart as working for the Lord, not for men."
To earn the title as Scholar Athlete one must have an overall GPA of 3.5 or higher and be classified as a Junior or above.
"I am extremely honored, grateful and blessed to be named a Scholar Athlete," Lutz said. "CBU Cross Country is all about running for a greater purpose."
Both the Men and Womens squads entered the season with expectations of competing at nationals in Vancouver, Wa. this year.
Although the teams came up short of that goal, they did accomplish several other goals this season.
The men placed in the top three in the GSAC championships for the second straight year and the women moved into the top five in the conference this year after a seventh place finish last season.
It was a record shattering year, as 19 of the top 30 all time fastest men's times in CBU history were broken this year. Eighteen of the top 30 women's times were recorded this season as well.
Mitchell Moore recorded the fastest time on the men's side this season as he ran his way to all-GSAC honors. Moore mentioned his goal for the season was to have a top five time on the team around 25 minutes and 20 seconds. He ended with the top time of 24:58.
"I feel like with this team and group of coaches, our chemistry is great and all we can do is keep on improving every year," Moore said.
Coach Watkins reiterated this as he emphasized the team's "tremendous growth" and their, "potential for big things next year."
Freshman Josh Massey will be a huge part of CBU cross country's future, as he earned all-GSAC honors in his first season at the collegiate level.
Massey said that his goal was to maintain a great work ethic in an effort to be the best he could be.
He quoted legendary runner Steve Prefontaine, "To give anything less than your best is to sacrifice the gift."
The team features only two seniors and six juniors, so it is primed for great success in years to come as it transitions into the National Collegiate Athletic Association (NCAA).