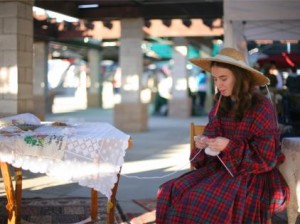 The spirit of the literature of Charles Dickens was revived as the 18th Dickens festival took its place at the Riverside Convention Center.
The annual weekend festival was held from Fri., Jan. 21 " Sun., Jan 23. It featured events and attractions that ranged from visual galleries, merchant tables, to live drama presentations.
Many merchants sold items that were associated with the 19th century including tea blends from across the world, clothing, and even hats.
Some of the events featured were interactive with the participants. There was a room that taught its guests to ball dance, interactive theatre, as well as a phrenology stand where guest could get a measurement of the their head to figure out their mental personality.
When it came to fine art performances, there was much music and theatre to choose from.
The main stage set up set up in the Ben H. Lewis Hall at the convention center featured acts such as the riverside concert band playing Victorian Musical Pieces and drama pieces of Barnaby Rudge.
In Riverside, the Dickens festival has been an annual festival for quite sometime.
Along with the normal performers and merchants, many guests at the festival also arrived and wore clothing attire that was associated with the period. They also kept in character with the period as well.
Many of characters in the play found a way to keep the audience on their toes, including the British guards that would march in and out of the convention center as well as the royal family telling the guests to make room for the queen.
One of the most popular events that the festival featured was the ball dance, Mr. Fezziwigs Ball in the Ben H. Lewis Hall. This was an event where attendees could pay $25 to partake and dance in a 1800s styled ball as final event to close out the Saturday night evening of the event.
The season of winter was a usual time for many to celebrate the works of the British Author according to Peter, one of the merchants.
"Most Dickens festivals happen around Christmastime because of 'A Christmas Carol' and sometimes occur throughout February because it's the month of his birthday." Peter said.
The festival continued throughout the entire weekend until its scheduled conclusion at 5 p.m. on Sunday evening.