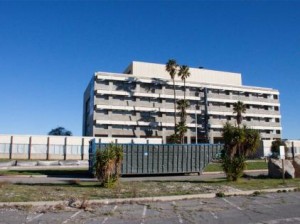 The demolition of vacant buildings on the property of March Air Reserve Base is a situation that brings California Baptist University closer to a new medical school.
On Nov. 10, 2010, President Ronald Ellis and Donald Ecker, managing director of March Healthcare Development, signed a letter of intent for CBU to facilitate a portion of the 170-acre site known as the March LifeCare Campus.
The preliminary agreement is that CBU will receive a portion of the property as a charitable gift that is to be used for medical research and educational purposes. The only restriction is that CBU cannot sell the property. The monetary value of the gift remains unknown.
Ecker is excited with CBU's involvement.
"As founder and managing partner of the March LifeCare Campus, I am so pleased to have CBU at the gateway," he said.
CBU's portion of the property is literally at the gateway of the campus.
The city-owned area of the base was hindered by vacant buildings that were once used by the United States Air Force and Army Reserves. Demolition began on Nov. 30, 2010. According to Chris Dickenson, superintendent of US Demolition, it is anticipated that the five-story hospital will come down the third week of March 2011.
The coined phrase of the demolition project is "deconstruct to reconstruct."
The plans for the project began nearly seven years ago when Ecker began researching the necessity of a new medical project and it has snowballed ever since. MHD is now said to be "the first medical city of the United States."
Ellis is a longtime friend of Ecker's, which opened the door for the partnership. In addition to working with CBU and Allied Health, Ecker said he hopes to have every educational entity in Riverside that is focused on medical education and research involved.
Not only will there be places for schools to study medicine, there will be 712 senior living units ranging from independent living to hospice care, the Inland Empire's own cancer institute, an eight-story hospital with over 550 beds, multiple medical offices, retail and veteran care specializing in post-traumatic stress disorder.
A stockpile is being made of all the concrete during demolition, because it is said that 85 to 90 percent of the concrete from the old buildings will be recycled when the campus is completed.
The entire project should be completed in less than ten years and the estimated cost is over 3 billion dollars but in the process will create over 12,000 construction jobs, as well as over 7,000 full-time healthcare-related jobs.