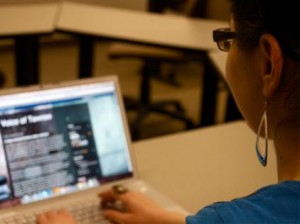 Blogging. The word itself sounds like an adjective for the noise your cat makes when it is coughing up a hair ball, though over half the world's population knows better.
This new trend in the emergent social media, involves keeping an online journal on topics ranging from business to personal life. Capturing the attention of nearly 50 percent of the world's population, it has done even more than that. It has opened up a brand-new market for self-made jobs.
According to Socialnomics, a book by Erik Qualman, there are an estimated 200 million blogs existing on the World Wide Web. Many of these blogs are generating an income of anywhere between $10 and $2,000 monthly for their owners. For a poor college student, these figures look and sound attractive. The workload even seems reasonable on top of late-night study sessions. But what does it really take to earn money for maintaining a blog?
"Your blog will be as successful as you want it to be. It's all dependent upon the energy you put into it," Sandra Romo, lecturer at California Baptist University and successful freelance writer, said.
"I've seen people make 20 to 30 thousand a year," Romo said. "It ends up turning into a full-time job."
Maintaining a successful blog is tougher than it sounds. At first, a steady flow of entries needs to be established and advertisers should be contacted.
"If you have established a following, you end up having to blog either once or twice a day for five days a week, which means you're always trying to generate new things to talk about," Romo said.
The primary way to bring in a steady cash flow is by incorporating advertisements into your blog. Google offers a tool called Adsense to aid with this, which matches advertisements appropriate for the topic of the blog. Basically, the more followers that click on the advertisements, the more money is made.
Large businesses are also capitalizing on the social media and blogging movements, hiring people to talk about their company or products on their blogs. For example, Wal-Mart has hired "Mommy Bloggers" to talk about and rate kids' toys, furniture, strollers and other kid-geared items.
"The whole 'Mommy Blogger' movement is big," Romo said.
No product sells well without a little advertising and if the blog owner is market-savvy, then he or she will promote their blog however they can. Twitter has evolved into an extremely useful tool for such a thing and is one of the biggest attractors of followers for blogs so far.
In a society that is driven by instant gratification, this is easier said than done. According to Romo, it would take anywhere from three to six months of constant advertising, promoting and updating blogs, Twitters, Facebooks and more for a blog to launch into a good-sized income generator.
That is not to say it can not be done. If a unique angle is found on a particular topic, then a following can be gained quicker than the estimated three to six months.
Perhaps a special blog on cat's hair balls would do the trick for the blog-inept cat ladies of the world.