Super Bowl Parties, Where art Thou?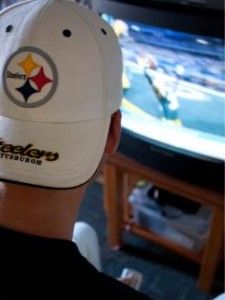 There was a noticeable absence of extravagant Super Bowl parties to attend on campus at California Baptist University this year. Sherlock Holmes himself would have struggled to find one.
In a recent survey, 15 students at CBU were asked how they spent Super Bowl Sunday. Male and female students from every class level, including residents from University Place, Smith Hall and Simmons Hall, Lancer Arms Apartments, Rose Garden Village, the Cottages, CBU off-campus apartments and commuter students were surveyed.
Of the group, only Eric Lanier, a resident in UP, celebrated the Super Bowl at an on-campus party. Lanier's RA organized a Super Bowl party in his RA box.
Fellow UP residents Scotty Jones and Emily Fletcher, along with other students Vanessa Yonkers, Adam Gold, Ari Sanchez and Jordan Taylor, traveled back home to enjoy the game with family and friends at lavish Super Bowl parties.
Some students traveled as far as San Diego to watch the game in a conventional environment rather than their college dorm room.
"My favorite part of Super Bowl Sunday is our traditional family football game," Jones said. "Every year all the cousins and uncles team up and play a game during the half-time show. Sometimes it gets pretty intense but it is always a blast."
Other students find the most appealing aspect of Super Bowl to be the company of close friends and family.
"It is like another big holiday and I love getting together with friends and family that I have not seen since Christmas," Amber Richey, a resident in Lancer Arms, said. "Oh and the commercials too. I always love the commercials."
For those who remained on campus, few made big plans for the game. Many students enjoyed the game in humble fashion, getting together with a few buddies and watching the game comfortably and quietly in scattered dorm rooms and apartments across campus.
Another obstacle for sports fans at CBU was that for the 400 or so students and staff involved with International Service Projects or United States Projects, Super Bowl viewing was not an option as they spent the entire weekend developing team relationships at Intensive Training Weekend.
The fact of the matter is the comforts and luxuries offered by the homes of family and friends for the Super Bowl are simply too appetizing to pass up. Microwaved hot pockets and fuzzy cable television shared with a few sleep deprived and homework burdened peers on campus does not measure up to six-foot party subs and crystal-clear high definition satellite networks.
Most college students simply do not have the money, the space, the time or the cooking skills to throw a legitimate Super Bowl party the way that families can. Super Bowl offers students a good reason to return home once a year to indulge their mouths with fried foods and seven-layer dips and indulge their eyes with big screens and surround sound.