Women's water polo undergoes a youth movement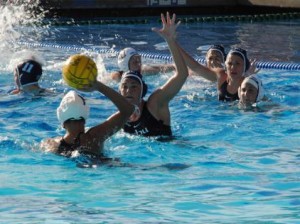 Looking to pick up where they left off last season, California Baptist University's women's water polo team is focusing on achieving a strong season.
Last year, the team ended with an overall record of 24-16 and was ranked in the top 20 of National Association of Intercollegiate Athletics.
"Every year, our goal is to end the season ranked in the top 20 and with a strong team this year, we are looking to be ranked in the top 15," Head Coach Jacob Medina said.
With the loss of some seniors from last season, this year's team is young but not to be underestimated. The Lancers have a roster of 22 girls, 10 of which are freshman and only three are returning starters.
Although they are young and do not have much experience, the team is coming together nicely and learning to work with each other. They are learning the importance of teamwork, which will be vital with the tough schedule that lies ahead.
On Jan. 21, the Lady Lancers faced the University of California, Berkeley team that is ranked no. 3 in the nation. They played tough but it was not enough to beat the powerhouse as they fell 16-8.
California State University, San Bernardino is another team on their schedule this season that is a tough match-up. CSUSB is currently in the National Collegiate Athletic Association (NCAA) so this will give the team some experience as they prepare to step up to the NCAA next year.
Medina is in his 4th season with the Lancers and is expecting this to be a difficult but rewarding year. He is confident that they will overcome the obstacles and have a great season.
"Our team is very young so we will need our returning starters to step up and lead the team," Medina said.
There are plenty of girls on the team that could be potential leaders and have an impact on the team but two in particular, Camryn Rogers and Alyssa Birch, have shown that they have what it takes to be leaders.
Alyssa Birch, a sophomore two-meter guard, had a solid season last year with 18 goals as a freshman but is hoping for more this year.
"We have tough games ahead of us and it is going to be competitive and challenging because our schedule is a lot more difficult," Birch said.
She has been playing water polo for 10 years now and knows what it takes to win.
"We need communication within the team and we need all of our returners to show some leadership," Birch said.
Camryn Rogers, a senior goalie, had an outstanding season last year with 299 saves. She is looking forward to a tough but great season.
"So far the season is not going bad. It is hard to tell where we are as a team right now because it is so early in the season," Rogers said. "Our biggest goal is to be ranked in the top 15 and put in the extra aggression and effort that it takes to do that."
The season is looking hopeful for CBU and it seems that with the team chemistry they have, they will do whatever it takes to win. The team is up against some tough opponents this year but will not back down.
Their next game is an alumni game Feb. 12 at 10:30 a.m. and then they face the University of Southern California at 3 p.m.