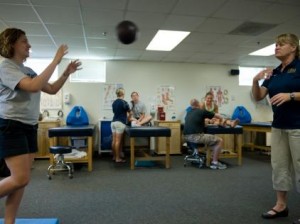 The National Athletic Trainers' Association has named March National Athletic Trainers' month as a way to recognize the hard work of the trainers who play a vital role in an athlete's life.
Athletic trainers are responsible for the prevention, diagnosis and rehabilitation of injured athletes.
California Baptist University is known for its elite athletic program, yet the athletic trainers responsible for the care of the athletes are seldom recognized for their hard work. The purpose of National Athletic Trainers' Month is to recognize the work of the trainers as well as to inform the public about what trainers do.
The common misconception is that an athletic trainer is a personal trainer, so people often say, "You must work out a lot." However, an athletic trainer is someone who cares for athletes, not someone who works out with them.
At least one athletic trainer is present at all sporting events, home and away, and they are also present at practices to care for athletes in the case that any emergency injuries occur.
In order to become an athletic trainer in California one must go through a Commission on Accreditation of Athletic Training Association accredited bachelors degree program, or they can choose to go through an entry-level masters program. The later is the option that is offered at CBU.
Adam Cady, head athletic trainer, believes that working as an athletic trainer is about more than ultrasounds, massages and electrical stimulation.
"Working with these athletes allows us an opportunity to be mentors and leader, to help these athletes follow Christ," Cady said "We are here to help them be better on and off the field."
Michele Vasquez, assistant athletic trainer for CBU, found her career in the occupation while she was in high school because she was really interested in science and sports. She has been at CBU for 18 years and says that her experience has given her an opportunity to minister to the athletes but has also helped her grow spiritually as well.
Vasquez goes to every men's and women's basketball game, home and away, as well as the water polo team's home games.
Ashlee Harlow is responsible for softball, women's volleyball and wrestling. She takes pride in the fact that things have come full circle for her, as she looks back at her mentors and how their students responded to them, and she sees that this is how her athletes look at her now.
The trainers do all of their work in the Athletic Training Clinic, located in the building to the left of the Van Dyne Gym. In celebration of National Athletic Trainers' Month, the trainers and several athletes participated in a volunteer day in the community on March 6.
"The great thing about working at CBU is that we have Sundays off, so we can use the day to go out and help others in the community," Cady said.