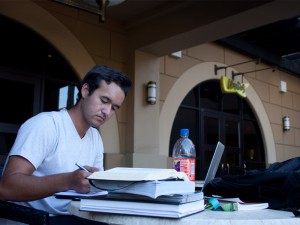 Commuters at California Baptist University and most universities overcome obstacles to get to class each day.
A few challenges are rising gas prices, traffic-jammed freeways and lack of sleep due to extended travel time. Wanda's Café is an on-campus eatery that is an oasis for the commuters of CBU.
Wanda's is the on-campus coffee shop that originally opened in 1991 as Wanda's Place. It is located in the Johnson Student Services wing of the Yeager Center directly next to the campus bookstore and across from the Associated Students of California Baptist University office.
In addition to serving coffee to sleep-starved students, Wanda's offers a lounge area where students can gather with friends to study, socialize or even sleep. This makes Wanda's a commuter favorite.
"It offers a great place to catch a nap between classes," joked Josefina Llanes, Liberal studies major. "But in all seriousness it is a good place for commuters to meet to study and socialize."
Another reason why the dining area has become popular with commuter students is because it offers delicious, affordable food selections without requiring a meal plan. Its ability to appeal to commuters has helped entrench Wanda's in CBU's campus culture.
Most menu items at Wanda's range from $1 to $5, making them affordable and filling. The cafe also offers cuisines from varying cultures on their "Global Eats" menu so there will always be different options to try.
Burritos, grilled cheese, club sandwiches and CBU bowls are among commuter students' favorite menu items. For those who are on the go, Wanda's offers refrigerated lunches with options, including sandwiches, salads, fruit and vegetables.
"My favorite menu item is their Lancer Club because it is amazingly delicious," Llanes said.
Wanda's is an alternative to the Alumni Dining Commons and Brisco's Café. The coffee shop features a laid-back atmosphere with low lighting and music from various mainstream Christian artists but also has a busyness about it due to its location in the middle of a crowded student area.
"Wanda's allows all students to eat whenever they want to since they do not always need to eat on campus or have a meal plan," Alex Dabney, Nursing major said. "Also, it is always nice to have their coffee in the morning."
Wanda's provides an excellent atmosphere for new commuter students to get acclimated to campus and CBU culture and it is a great place to meet new people.