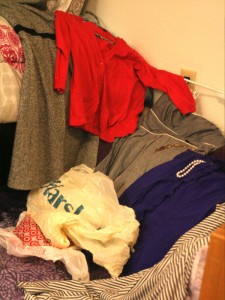 As fall approaches and students settle into life at California Baptist University, now is the chance to find the hot spots Riverside has to offer.
While on the search for entertainment and leisure, have you ever thought about where the best shops are? As college students, we want to find the best prices that are close to campus. They can be found at department stores like Forever 21 and thrift stores just down the street.
Forever 21 is an American chain of clothing retailers that specializes in affordable chic apparel and accessories for both men and women. It is a great choice if you are looking for bargain prices and a store that carries all of your necessities.
Women can buy shoes, handbags, eyelash curlers and other necessities. Men can find great deals within their 21Men brand such as basic T-shirts, jeans and suit blazers starting at $53.90. You can also find basic T-shirts for up to $10 and their signature yellow tag sales and $21 deals.
Jewelry is another great save. Unlike most stores, jewelry at Forever 21 starts off at $5.95. Earrings can even start off as low as $1.
Shopping at Forever 21 is perfect for the average college student who wants to save money but also dress in the latest trends. There are two Forever 21 retailers within 10 minutes of CBU's campus: the two-story at Riverside Plaza and the store at the Galleria at Tyler (which will be a two-story this fall).
Cotton On is up and coming Australian retail chain that came to the United States to offer casual yet fashionable clothing for a ridiculously affordable price.
You can find men's apparel and children's apparel alongside women's clothing and accessories. Cotton On is the ideal choice if you want to take simple items and create a dual day/night outfit out of them.
They always have great finds, such as 2 for $25 skirt deals, ballet flats for $9.99 and men's jeans starting at $20.99.
They also work with different world organizations. Currently, if you add $2 to your purchase, the proceeds will go to end poverty in Uganda and they will also give you a small canvas bag as a gift.
Cotton On is located at the Galleria at Tyler.
T.J. Maxx is an American retail chain that serves the needs of men, women, children, the home and more. It is known for selling designer brands for up to 60% off department store prices. This is a great choice if you want to find all of your needs in one trip. T.J. Maxx stays current in their selection so it accommodates every season.
T.J. Maxx is split up by section to make it easier for customers to search for what they need. From hair products to apartment decorations, you will find everything you need at a low prices.
You will find T.J. Maxx off of 390 N. McKinley St. that opened at the beginning of 2011.
Thrift stores also surround Riverside. The Salvation Army Thrift Store, Riverside Hospice Thrift Store and Robs Vintique are located on Magnolia Avenue. From Goodwill to small vintage boutiques, you can find incredibly low prices. It is all about fashion-recycling, so you must search deep for items that will give you the look for which you are searching.
It is not always about where you go but what you find. Always look through racks, be patient and be creative. You can take your average summer attire and give it a twist to re-purpose it for fall. Remember: just by adding a cardigan or spicing up your summer clothing with leather boots, you will save money for your next outfit.