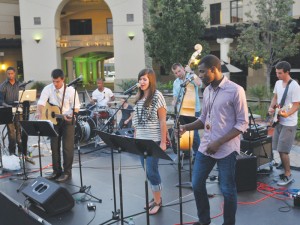 With additional chapel services and additional venues due to the growing student population at California Baptist University, the Office of Spiritual Life decided to implement yet another change to our chapel experience. We now have not one, but two worship bands comprised of both new and familiar faces.
Chapel services will now take place on Mondays as well as Wednesdays and Fridays. This was done so to lessen the amount of students attending each chapel service. As a result of the extra chapel sessions, OSL saw a need for two chapel bands.
"We are extending the chapel schedule into Mondays, so a second band [was added] mostly out of necessity," Brett Vowell, Director of Chapel and Compassion Ministries said.
"With that schedule going into place, to ask a single band to cover all six chapel sessions would be challenging and quite a lot to ask of a student to incorporate into their schedule," said Vowell.
The band that will play mostly for new students on Mondays consists of: sophomore Geoff Grant vocals/acoustic, sophomore Tiffany Lanning vocals, senior Kelly Leonard vocals, junior Jeremy McKee keys/vocals, sophomore Jacob Armstrong bass, junior Tyler Jones drums.
"I am absolutely ecstatic to work with the band I have this year. I don't exactly understand how all the members ended up being in the band, but it was truly such a God thing. Nowhere in me would I have the discernment and the foresight to piece together a band like this, so I find myself counting down the minutes until we get to hang out or rehearse or lead worship," Grant said.
"They're honestly a huge blessing in my life. The biggest thing for me though is I am so ready to see the spirit move in this school. There is so much more to it than just worship music, I know that's just the beginning, but I'm humbled and excited to take part in what God has in store for the students on this campus."

On Wednesdays the second band will play for an audience of mostly returning students.
Senior Eric Hanson leads the band while senior Jessica Kay and senior Jharen Haynes do vocals. Junior Matt Suarez electric, senior Kelcey Fry bass, and junior Devron Suttle drums.
"One of the things I look forward to most in being with this year's chapel band is engaging the CBU campus in worshiping God and ascribing Him praise while playing with a talented group of brothers and sisters," Hanson said.
The bands will share responsibility for Friday chapel services.
"From our band you will get a gospel, Hillsong, Jesus Culture vibe. From the other band you will get more of a pop, Dave Matthews, eclectic feel," Kay said.
Due to the increase in population, Wallace Book of Life Theater will now house chapel service on Fridays. The service will still take place in the Van Dyne Gymnasium, but will also be viewed as a simulcast in the theater so as to accommodate the growing CBU population.