Siblings spur each other to swim success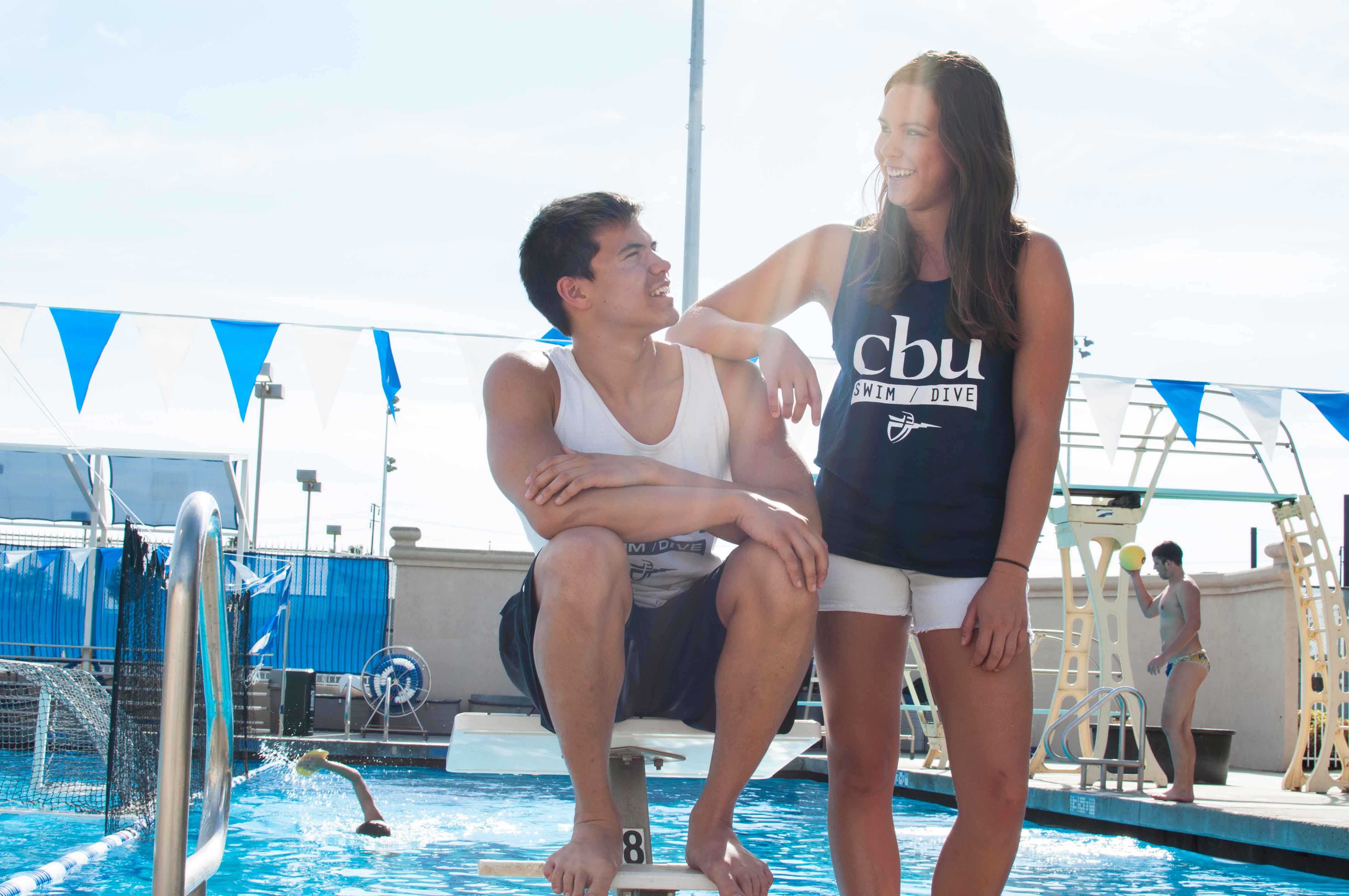 Siblings Josh and Mary Hanson are on the California Baptist University swim team and have displayed Christ-like qualities in and out of the pool.
The CBU swim team is known for its outstanding accomplishments and recognized in the National Collegiate Athletic Association Division II swim league for its fierce competition and relentless effort. On campus, the members, like the Hansons, are also known as a team that glorifies God through the talents he has given them.
"Mary and Josh come from a very strong family of faith and they live out their faith daily," said Rick Rowland, head swim coach. "They are good examples of the ways they carry themselves in all areas."
Both siblings have worked hard since they were young to get to where they are now.
Mary Hanson, senior electrical computer engineering major, has been swimming competitively since she was 4 years old.
Josh Hanson, sophomore electrical engineering major, followed in his sister's footsteps and has been competing for 10 years.
The Hansons have both won Summit Awards for their outstanding grade point averages and continue to break school records in swimming.
"Both of them have a very good opportunity to make their Olympic trial cuts for the 2016 Olympics," coach Rowland said.
The siblings help each other improve through healthy competition.
Besides supporting each other as brother and sister, the rest of their family also supported their athletic endeavors. Their  father started coaching them so they could become better athletes, not only physically but mentally.
"My father taught us how to coach ourselves and focus what we were doing wrong and try to fix it," Mary said.
Aside from their father coaching them on a satellite team, the Hansons competed on their school team and on a club team.
Throughout high school, their father encouraged them to push each other and build each other up, both spiritually and physically.
Once the time came to start applying to colleges, the Hansons knew they wanted to exceed in their sports career and further their walk with Christ.
Although many colleges recruited them, the Hansons said they knew CBU was the place where they were meant to be.
"I love being able to pray with my team before every meet," Mary said.
While the Hansons are dedicated to their sport, it was important for them to choose a college that would help them maintain academic standards.
Being on a Division II team requires  a lot of time spent practicing but the Hansons also recognize the importance of study time.
"We miss out on some social activities, but I wouldn't give swimming up," Josh said.
Swimming is a major part of the Hansons' college experience and they consider the swim team their family.
Swimming has impacted the siblings' lives so much that both said they plan on swimming competitively after graduation in the master's league.