New players gel with team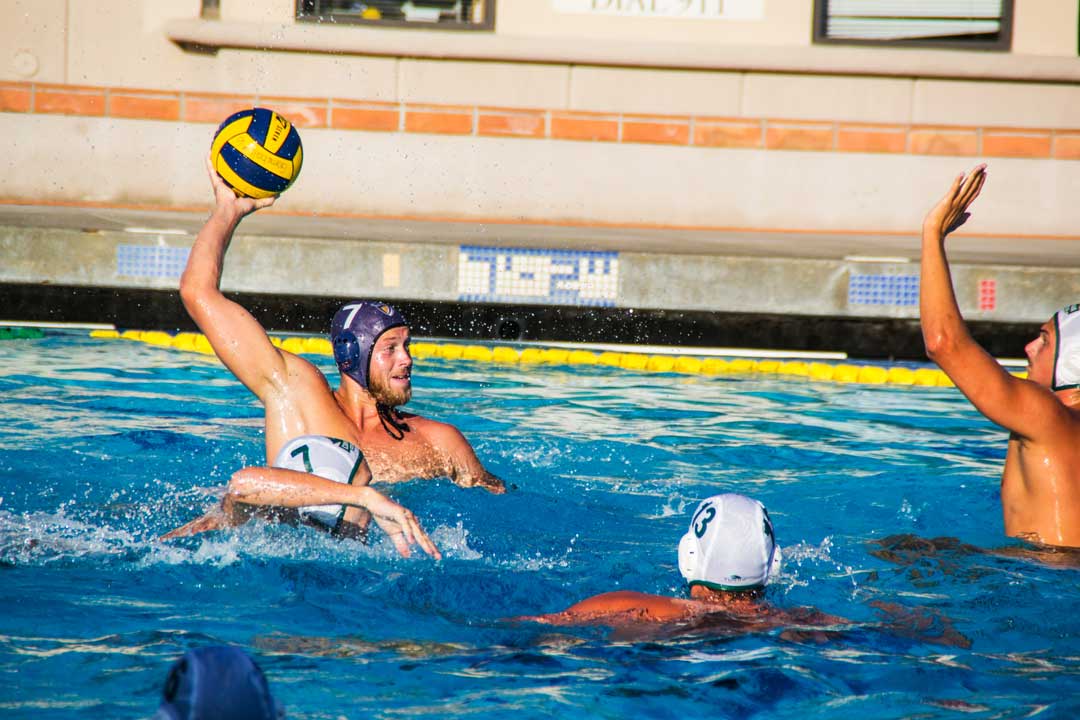 After seven seniors graduated and left the men's water polo team at California Baptist University, head coach Rick Rowland brought on 12 new freshmen and transfer players for the 2014 season.
The new additions seem to be working well so far as the Lancers are 8-5. Three of their victories came from the recent Lancer Invite, a two-day tournament hosted at CBU's Lancer Aquatic Center, Sept. 19-20. The water polo team swept all three of their matches during the invite, beating out the University of La Verne, California Lutheran University and Concordia University Irvine.
Rowland said one of his goals is to bring the team closer together in light of the many new faces this season.
"Our goals are to develop and mature and bond as a group this year, because we're only losing three seniors on this year's team," Rowland said.
Many of the freshmen are red-shirting this year as they adjust to being part of the men's water polo team. Red-shirting allows players to train for a year and get used to the competitiveness of college athletics without the pressure of performing in games.
"Most of our freshmen are getting an extra year to develop in the classroom and in the weight room," Rowland said.
Since five out of the seven players on the starting lineup graduated last year, there have been changes from last season to this season.
Brett Vowell, director of Chapel and Compassion Ministries, who has been announcing men's water polo home games for nine years, attends some of the games just for fun.
"Every year you see new faces and it causes you to question the team dynamic," Vowell said. "Water polo used to have a rough reputation, but there's been a huge change in that. Now there are a lot of strong leaders and students."
Though there is only one freshman on the starting lineup, all of the new players have changed the team in one or more positive ways.
Brent Teraoka, sophomore biology major, said the transfers have added depth to the team.
"After the first two games, they really meshed and were able to play well," Teraoka said.
"Most other seasons we've been really, really up and down," said Eric Carnohan, senior history major and team captain. "This season it's been a climb straight up."
Carnohan, as well as Rowland and the whole team, said they are excited for these new players as they see that this season will be a better season.
"These guys are learning more to come together as a group with defense and offense and getting on the same page. They're progressing pretty quickly," Rowland said. "We have some good veterans and good transfers helping the gelling process."