Brothers cement bond, legacy through time in water polo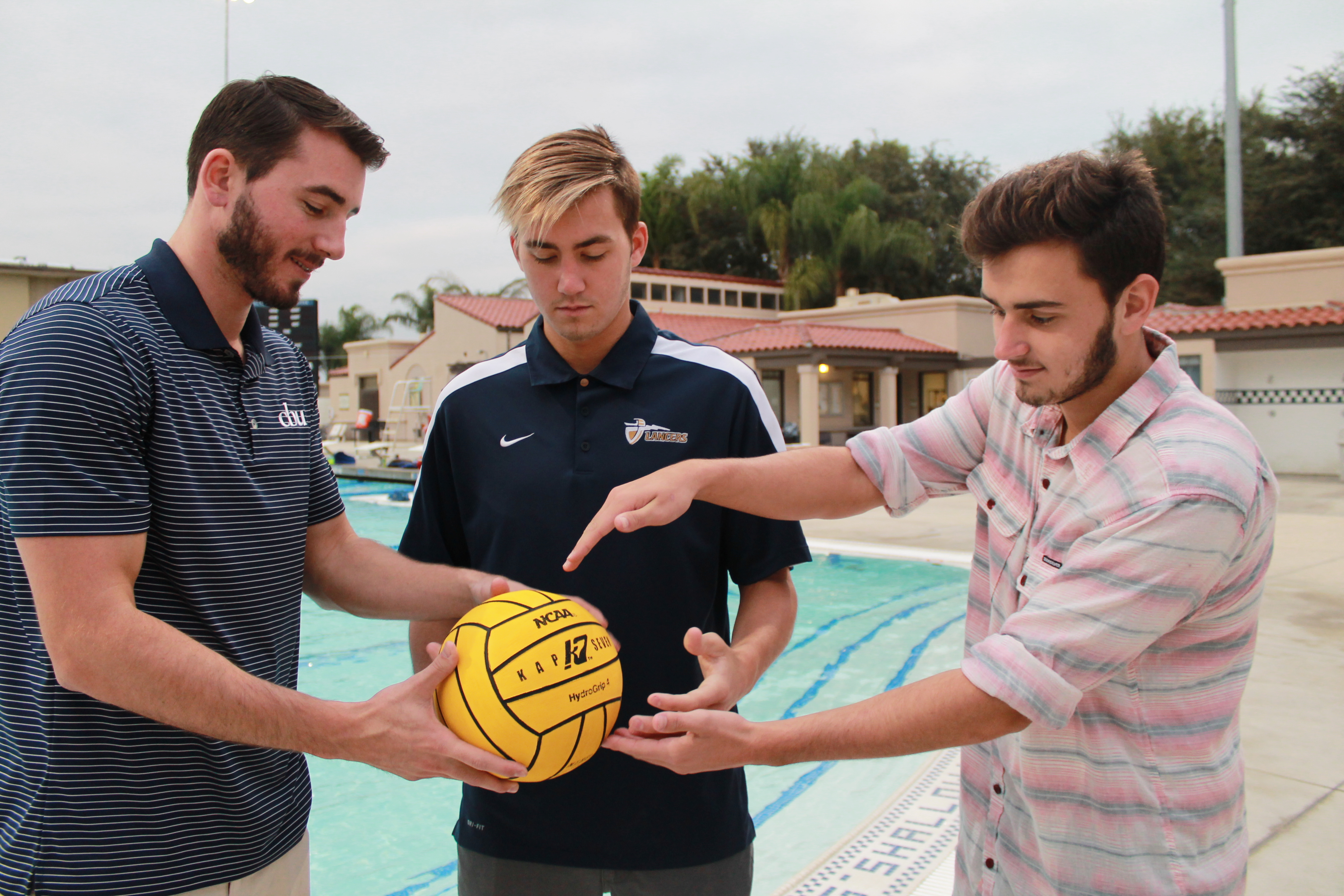 A favorite sport is sometimes the one thing that brings siblings closer to one another. For the Jizmejian brothers at California Baptist University, water polo was the one sport they were most passionate about, and it gave them an opportunity to create countless memories.
Keith, CBU alumnus; Jake, senior applied theology major; and Kolby Jizmejian, freshman history and English double major, have been a part of CBU men's water polo since the oldest, Keith, came to the school in 2009. He was a captain in his position as a driver. Jake soon followed in his older brother's footsteps in 2011, and also became a captain while playing the same position. Kolby, the youngest, is currently a redshirt freshman, and he plays the same position as his two older brothers.
They did not start off playing water polo. Keith introduced water polo to his family during his freshman year of high school. Regardless of the number of years they have been playing the sport, the skills the brothers possess show while in the pool.
Keith, who graduated in May, said he wanted to try his hand at a university after playing in high school. Rick Rowland, head coach of the men's water polo team, then reached out to him, and Keith signed on.
"I wanted to come to Southern California to play water polo at a higher level," Keith, a Central California native, said.
Jake was the second Jizmejian to come to CBU. He said he first heard about CBU through his older brother. Another factor that sparked his interest was the applied theology major the school offers. He said it was easy to make a decision for himself.
"Water polo and the BAT program were all I needed," Jake said.
Kolby, the youngest, soon wanted to be a part of the CBU and water polo families, as well.
"I saw my brothers enjoying their lives at CBU because of water polo as well as the atmosphere. Seeing the examples of my brothers' lives made me fall in love with CBU," Kolby said.
Through their games and practices, they have shared many memorable moments. One of the special moments Jake remembers happened during Keith's senior year. Jake said they made a play together that determined a positive outcome of the game, and the play is now known to them as "the bro goal."
Keith said his memorable moment was simply just being on the team with Jake for three years. However, he has not been able to play with his youngest brother, Kolby.
Although he cannot play with his oldest brother, Kolby said is still appreciative of the fact that he gets to see them both every day on campus.