Germany beats Jamaica on penalty kicks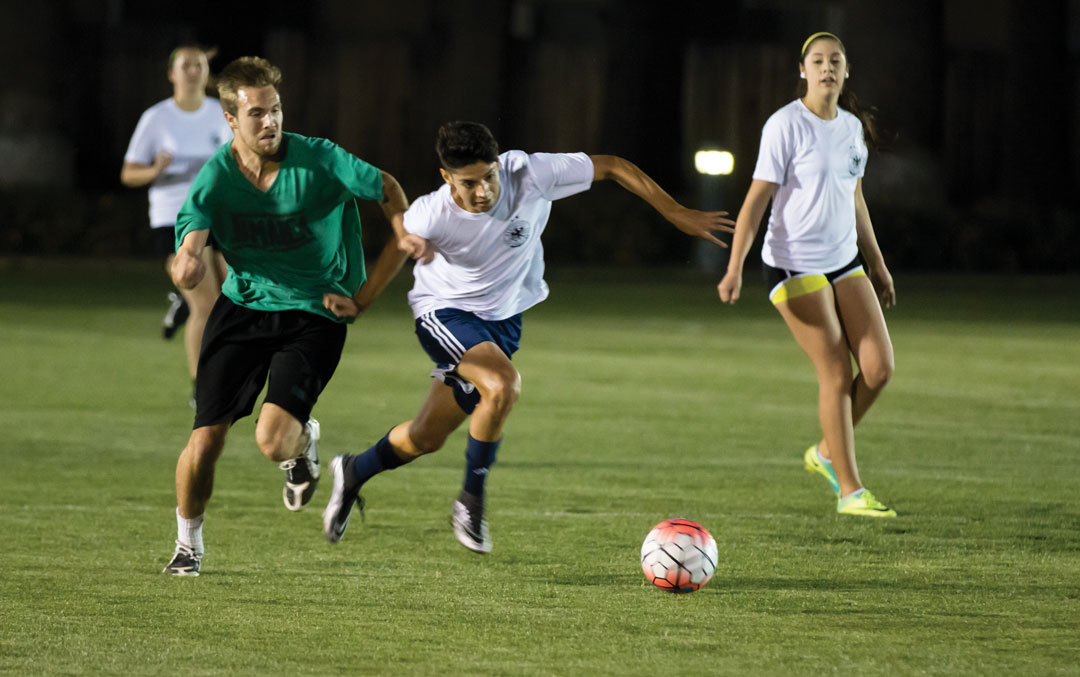 Lancers gathered for live music and competitive soccer games on the Front Lawn at California Baptist University April 5, for this year's intramural soccer championship, Lancer Cup.
The tournament had a World Cup theme, and teams competed representing the country of their choosing. This year, the teams that went head-to-head in the championship were Germany and Jamaica. After two halves and an even score, the game was forced into overtime and rounds of penalty kicks, where Germany eventually claimed the title, 2-1.
Adrien Prath, freshman undeclared major and member of team Germany, said he was surprised at the crowd who came out to watch the match.
"Soccer is my favorite sport," Prath said. "It is the most active sport and it is the biggest sport in the world. I don't understand why it doesn't get more attention in the United States."
The game was on a high technical level, which is unusual for intramural soccer in America. Both teams impressed the crowd with one-two passing, disciplined team play and a variety of difficult defensive strategies, which are common among professional soccer teams. Although Germany won the game, Jamaica was a competitive opponent, which provided an exciting soccer game.
Team Jamaica's Matt Spoelstra, junior biology major, said he was disappointed about the tough overtime loss.
"We were leading 1-0 for most of the game until we got a penalty," Spoelstra said. "We played great and had a lot of good shots. We just got unlucky with the penalty. We probably should have won the game."
The festivities surrounding Lancer Cup also included food trucks and live music from two different world music bands.
Several International Service Project and Summer of Service teams utilized the different cultural representation of Lancer Cup to fundraise and seek prayerful support from fellow students.
Lancer Cup 2016 was a celebration of soccer and an opportunity for students to experience cultural entertainment.