'Wizarding World' brings magic to California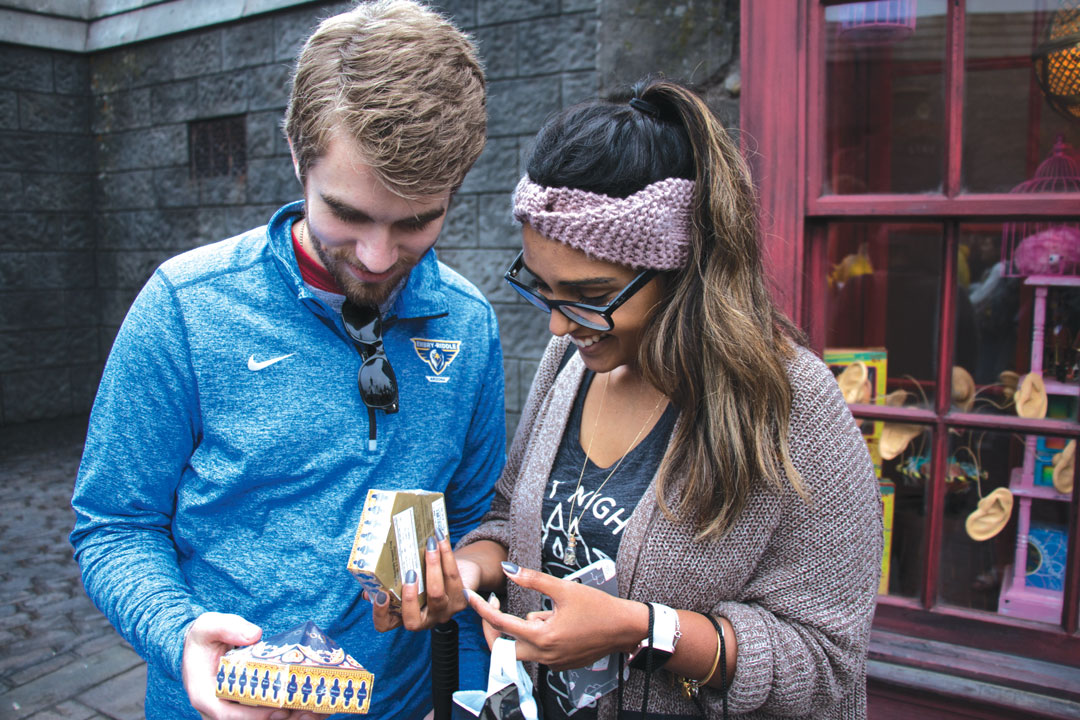 In the midst of sunny Southern California lies a place where visitors are transported out of the sweltering heat and into the cold streets of London where a world of magic exists.
"The Wizarding World of Harry Potter" opened at Universal Studios Hollywood April 7 to thousands of people donning black robes and various scarves reminiscent of students of the magical school depicted in the "Harry Potter" books and films.
"Today is a very exciting and historically significant day for us," said Larry Kurzweil, president of Universal Studios Hollywood in a press release. "This incredible event to celebrate the opening of 'The Wizarding World of Harry Potter' marks the pinnacle of years of hard work and the beginning of a new generation of Universal Studios Hollywood."
Since its initial announcement in 2011, years of construction has recreated significant places from the series, including Hogsmeade and Hogwarts, where eccentric stores and themed rides are available for witches and wizards of all ages.
The Hogwarts Express welcomes bustling crowds and presents the first of many photo opportunities before leading to the castle, the focal point of the land.
"I loved the 'Forbidden Journey' ride queue in Hogwarts' castle," said Jessica Gonzalez, 23-year-old Disney California Adventures cast member. "It's like coming home as if you are a student at the school. Also, you can mail letters from the owlrey, which basically means buying stationary and sending your 'owl post' from within the store."
With twisting streets and forced perspectives of buildings, the land is made to look much bigger than it actually is. More than 75 percent of the original 'Wizarding World' in Orlando, Fla., has been recreated in Hollywood. The attention to detail within the park can be found down to the sounds of "Moaning Myrtle" crying in the bathroom.
"You forget about that person who was rude to you yesterday at work or forget about how overwhelmed you are because the moment you step foot inside Hogsmeade or Diagon Alley, or you get a look at that Hogwarts Castle or taste your first Butterbeer, you have this realization that anything is possible," said Alexandria Leal, California Baptist University alumnus. "You remember the value of friendship because you're experiencing something magnificent with people you love."
The park provides "Harry Potter" themed treats accessible in The Three Broomsticks, as well as Butterbeer, a mix of butterscotch, ice cream and cream soda, which is a sweet drink that can be also be enjoyed frozen.
Guests can cast spells in store windows after receiving their first wand through a ceremony presented in Ollivander's and perusing shops in search of "Harry Potter" apparel.
"There are so many things as a kid you thought you would want to explore in 'Harry Potter,' and now all those places are at your fingertips," Leal said. "You have the ability to dive into a book — to be able to give that to someone and be able to watch people or experience something you thought you never would — it's an incredible feeling."