Swim and Dive Team Hopes For Title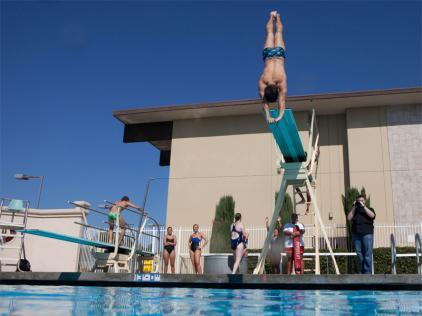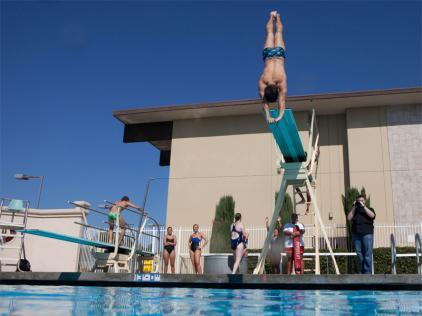 Swimming and Diving teams at California Baptist University have kicked, flipped and pulled to an undefeated start in the 2010-2011 season.
With first or second place finishes at the National Association of Intercollegiate Athletics (NAIA) national championships every year since 2000, this team has been a consistent source of athletic excellence for the university.
At the Pacific Coast Swimming Conference (PCSC) relays, the first event of the season, the swim/dive squad dominated as they took first in 13 of the 24 events.
They swept the meet with a total of 712 points, as they were led by a recordbreaking backstroke performance by junior Kevin Sellars. One day later, the Lancers competed at the PCSC Pentathlon, where again the men and women wrapped up first place.
Jamie Flynn, a junior diver, performed well for CBU at this meet, winning the diving biathlon with a personal score of 477.10. During this meet, the squads defeated Concordia University, Fresno Pacific University, Loyola Marymount University and many others.
Swimming and diving are team sports, but they rely heavily on strong individual performances.
This season, the Lancer's early success has been due to many student athletes stepping up to the plate and contributing strong performances as well as many points to the team.
One athlete who has been especially vital is junior diver Trevor Graifman. Graifman was also a huge part of the team's success last season. He was the NAIA National Champion in three meter diving. He also earned two All-American honors at the event.
Graifman began diving his freshman year in high school and, following his sophomore year, began diving year-round before coming to CBU.
So far this season, Graifman is off to a good start with many first place finishes, including a sweep of the diving events at the PCSC pentathlon. He credits his and the team's success to the coaching staff.
"I think that the coaching plays a big role. Coach Wahlman has done very well with breaking diving down to the basics, and then building us up," Graifman said.
After the team finished second in last season's National Championships, Graifman expressed confidence in this years squad.
"I feel that we have an excellent chance this year, considering our record thus far," Graifman said. "We can only progress from here."
Another standout performer is swimmer Vicente Andrade, a three time NAIA National Champion; twice in the 200-yard backstroke and once in the 100-yard backstroke.
Andrade has been as strong as ever so far this season. With two first place finishes at he PCSC Pentathlon, and two first place, one second place finishes at the Redlands Invitational, he continues to help the team excel.
Check out the Swim and Dive teams at the Lancer Aquatic Center today, Nov 5, at 2:30pm, as they face off against the University of Redlands.