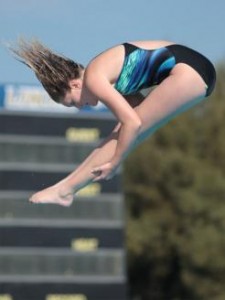 The swimming and diving program at California Baptist University never finished lower than second place at the National Association of Intercollegiate Athletics National Championships.
They do not plan on anything less this season either.
"Our goal every season is to get to Nationals with a full team and walk away with a national title,"HeadCoach Rick Rowland said.
The team is coming off a second place finish at this past weekend's Pacific Collegiate Swim and Dive Conference championships.
The University of California, San Diego won first place in both the men and women's side at the four-day event.
These second place finishes were an improvement over last year's results as they finished third and fifth in the men and women's categories.
The team now turns its focus to the NAIA National Championships March 2-5.
"We are taking a strong team of 39 athletes to Nationals this year," Rowland said.
Among these 39 athletes are five members of the CBU dive team. This is the highest representation at the National meet in the history of CBU diving.
Among these representatives is last year's National Champion in the 3-meter dive, Trevor Graifman and transfer student Jamie Flynn.
"Our goal is to sweep all of the events," Diving Coach Ben Wahlman said.
Over the past two years the aquatics program shifted its focus to recruiting quality divers.
This year's team features 10 divers, which is the largest team in the history of the program.
"A solid line up of divers is what can put a team over the top at Nationals," Rowland said.
Wahlman and the previous diving coach Jeff Couto spent time recruiting junior college divers that helped develop the program.
Flynn and Michelle Black are two of these transfers that impacted the program this year.
Succeeding at the national championships is about more than just one aspect of the team though. It must be a complete team effort all the way down the line.
"Every point counts," Rowland said. "Yes, first place finishes are important but every finish makes a difference, even if it means finishing in 8th instead of 9th, that means an extra two points."
Rowland is confident his team will perform well at the finals because they work hard and are a team that is strong with their strokes.
It is the team's last season in the NAIA and they are looking to win their 9th and 10th championships.
Mary Hanson won all three events that she competed in at the PCSC Championships and will look to do the same at the NAIA Championships.
Trevor Graifman is also set to defend his title in the 3-meter dive and grab another title in the 1-meter dive.
"They have worked hard for 5 and a half months," Rowland said. "And we want to go out with a bang."