Friends, football and talking trash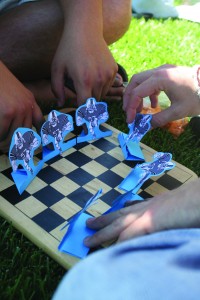 The National Football League (NFL) comes to the California Baptist University campus every year via Fantasy Football. Students join the action and excitement with trades, competition and bragging rights for having the best Fantasy Football team in their league.
Every season, NFL enthusiasts across the nation get on their computers to create a custom team to compete with friends, family, coworkers and even complete strangers in Fantasy Football leagues. Knowledge of the game and careful planning help participants create the best teams. Some play for a weekly cash prize, while others do it for the love of the game.
In 1962, the first Fantasy Football league was started using local newspapers with brackets to create teams for the draft. The Internet eventually catapulted Fantasy Football into a popular game across the country among football fans.
Before the season begins, participants gather together for the draft. Some leagues have draft parties where participants meet together and pick players in each round until their team roster is full.
Every week participants are assigned an opponent from their league to face off with. Competitors compete weekly with a point system that awards teams for the individual performance of each athlete on their fantasy team. The points are tallied up after the Monday Night Football game and the winner for the week is declared.
Teams are comprised of approximately 15 players that include two quarterbacks, two running backs and other skill position players. Points are earned by each player on the team during their respective games that week. The majority of points are earned by a team's offense, which scores when players get touchdowns, gain yards rushing or rack up receiving yardage.
Fantasy Football is a social experience as much as it is a gridiron competition. Many CBU students gather together to discuss trades, pick teams and boast their teams' performance during Sunday football games.
Six year Fantasy Football veteran and CBU senior, Wil Byers enjoys the camaraderie and networking that participants experience when playing with friends. The trash talking and bragging that comes with the territory provides a level of enjoyment that brings Byers back year after year.
"It's great for friends," Byers said. "It's fun seeing them after you haven't for six months and talk trash on them because you beat them last week."
Recent CBU graduate, Grant Gergins has played fantasy football since high school. His knowledge of the game, as well as the chance to get together with friends, brings him back to the competition every year.
"I get to do [Fantasy Football] with friends," Gergins said. "It makes it more fun."