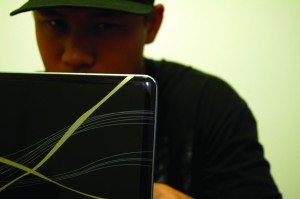 The Numa Numa guy, Star Wars Kid, Afro Ninja and California Baptist University's Men's Volleyball team.
It may seem that the Lancers volleyball team does not fit in the list above but it does. Recently, YouTube videos have replaced personal DVD's as the main recruiting tool for university athletics.
According to Assistant Director of Athletics for Sports Information at California Baptist University, Micah McDaniel, many coaches have begun to adopt the YouTube recruiting strategy.
He lists men's soccer, women's soccer, volleyball and golf as programs on campus that use the site to recruit.
Fifth year assistant men's volleyball coach and recruiting coordinator Trevor Johnson has been using YouTube to recruit for his team, and says that it is a lot easier for athletes to upload a video onto YouTube than it is for them to burn a DVD.
In the past, all student athletes looking for scholarships would film themselves in action and create a DVD highlight reel to send to college coaches to garner attention.
As we move deeper and deeper into the information age, YouTube has emerged as a helpful tool that can allow an athlete to be discovered by coaches and schools not normally on their radar.
The typical structure of a YouTube highlight video begins with an introduction by the athlete, then a skill session showcasing the skills the athlete uses to excel and then it will conclude with some game footage.
After uploading their video, the athlete only needs to send a link via e-mail to the coaches and can get instant response, rather than the more time- consuming process of sending a DVD.
Coach Johnson prefers YouTube to a DVD, but says that sometimes he feels he gets a better sense of the athlete's work ethic when they send a DVD.
"Kids put more time into making their DVD's, and with YouTube you get the raw, uncut version sometimes," Johnson said.
Coaches are always looking to gain the competitive advantage over the other teams in their division, so they put a lot of time and effort into their recruiting process for each prospective student.
Cullan Maher, a senior volleyball player who transferred to CBU last year got to experience this in-depth recruiting process firsthand.
According to Maher, it all started with his junior college coach offering him a list of prospective universities and coaches that may match his playing style. The next step was putting him in contact with the coaches.
Maher contacted our volleyball staff via e-mail, and they watched some of his game footage, and after that he was invited to a practice to workout with the team.
After this long process he was invited to the university and went on to be on the NAIA national championship winning men's volleyball team last season.
With the University's transition into the NCAA on the horizon, the coaching staff are working to enhance the competitiveness of all of the CBU athletic programs and utilizing all available recruiting strategies is one way of achieving that goal.