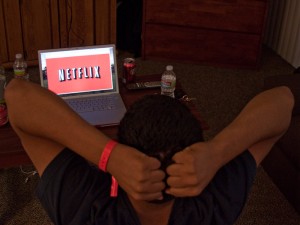 After many years of acquiring customers and building trust, Netflix raised prices of streaming videos and DVD rentals which disappointed customers.
Email notification was sent to customers, explaining the need to separate the two plans and add a cost to each one of them.
"We are separating unlimited DVDs by mail and unlimited streaming into two separate plans to better reflect the costs of each. Now our members have a choice: a streaming only plan, a DVD only plan, or both," The Netflix team said.
While the company has its reasons, this will sway customers toward competitors that offer less expensive deals.
For example Redbox and Blockbuster both allow any customer to rent a DVD for $1 a night as long as they have a debit or credit card.
However, existing customers will have a slight break as the new plan will not be applied to existing accounts until Sept. 1.
Before, Netflix simply charged a flat rate of $14.99 for unlimited DVDs as well as unlimited streaming.
Netflix will now be charging for each service individually. Unlimited DVDs will now be available for a higher and total price of $7.99.
Customers will only be able to rent 2 DVDs out at a time and will have to add on a second plan if they wish to have unlimited streaming.
In an attempt to benefit customers by separating the charges of DVD's and unlimited streaming, Netflix has also increased the price of unlimited streaming due to its popular demand.
Unlimited streaming will now be available at a cost of $11.99 and can have unlimited DVDs added to the plan for a total cost of $19.98.
This new plan may offer more benefits and better service for customers, but for college students, it may be a cost they are not willing to incur.
"I was very satisfied with Netflix before the price and package change, but now the price change has increased so much and I am very dissatisfied " CBU Junior Amanda Angel said.
After Sept. 1 there will either be a positive or negative reaction from all of the customers Netflix attracted throughout these economically challenging years.