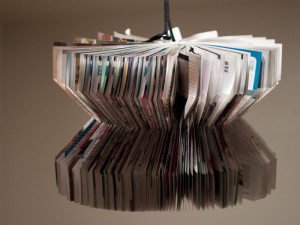 Walking into the emptiness of a new apartment can be daunting. How will you and your roommates make it into your own space? How can you decorate if you're not allowed to paint or put holes in the wall? It can seem overwhelming but with some creativity and D.I.Y thriftiness, it is possible to transform your apartment into a vibrant, colorful home.
Use color in new ways. You may not be able to paint, but that does not mean you have to be surrounded by white. If you want some wall color, hang a large piece of fabric like a curtain over the wall. Get it in one single color, your favorite pattern or even get fabric paint and make a pattern of your own.
Decorate with lights.
 Christmas lights are not just for the holidays; they can be used all year long. Stringing them around a bookcase or window can make a room feel cozy and are perfect for late-night movie marathons or study sessions where working in complete darkness can be difficult due to the harsh light of a computer or TV screen. Just remember to turn them off whenever you are asleep or away from home. If Christmas lights feel too seasonal, get creative with your lampshades and pick out ones with bright colors or fun shapes.
Get a whiteboard.
 Not only are they useful for keeping track of assignments and appointments but having a whiteboard offers endless decorating opportunities. Draw your favorite cartoon characters on it, write a quote or Bible verse a day or leave notes for your roommates. Everyday you can make a new piece of homemade art for your apartment.
Display your photos.
 Get prints of your photos instead of keeping them in your computer or cell phone and put them everywhere. You don't need to worry about frames,just tape them up in a collage. You can organize by time, theme, color or not organize them at all!
Art prints.
 Art is the often the simplest option when it comes to home decorating but actual prints can be expensive and hard to find. However, websites like etsy.com have numerous inexpensive prints from independent artists. You can find something original and quirky that will go with whatever design you have come up with for your space.
As fun as it can be, decorating can seem overwhelming and expensive but it does not have to be. Making use of what you have and getting creative goes a long way toward making an apartment more comfortable and inviting.