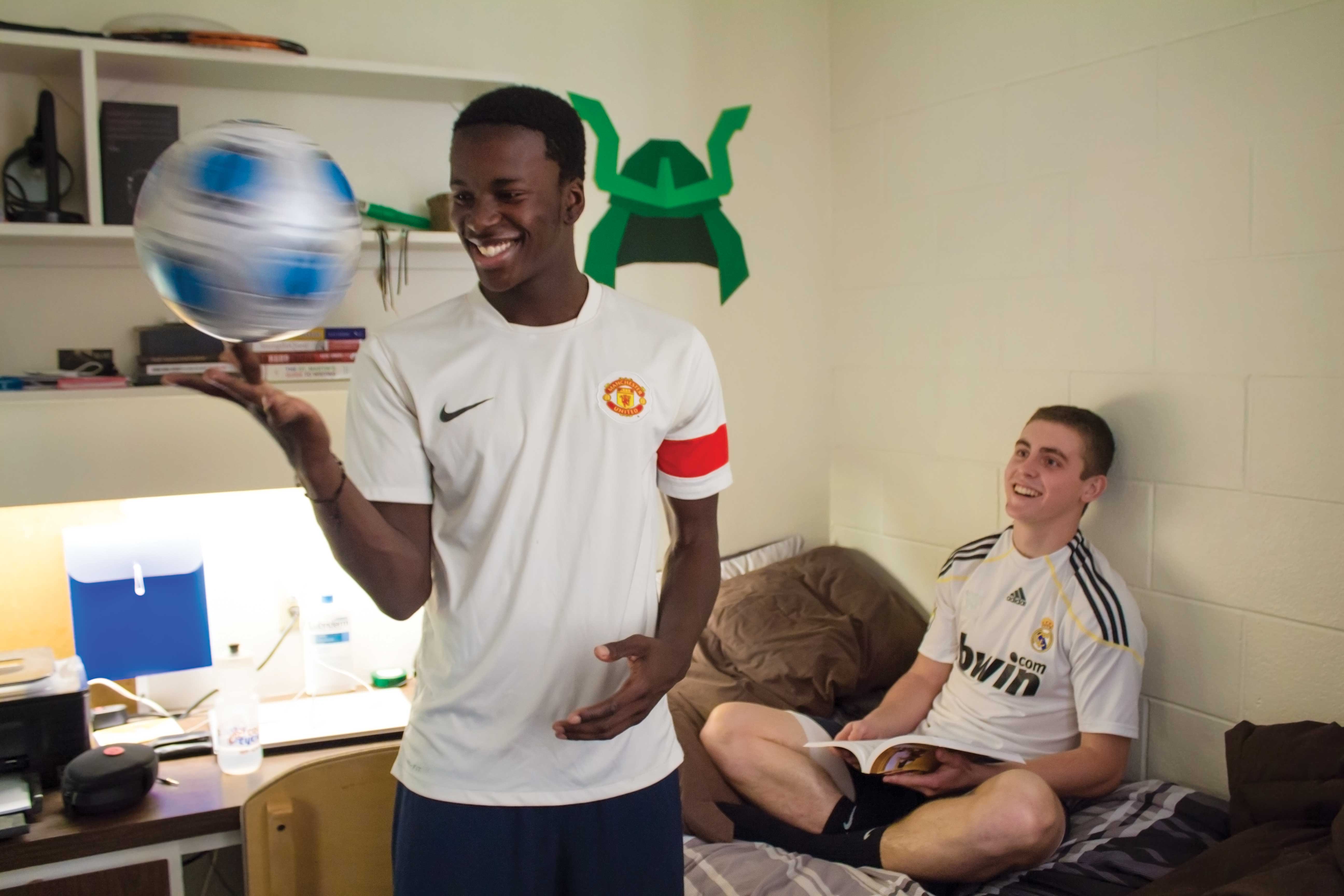 Having a roommate is challenging, and there are ups and downs to every roommate experience.
Whether they have been friends since kindergarten or they just met before moving in, sharing such a close space with another person is sure to bring laughter as well as some added frustration.
Roommates spend a lot of time together, so rooming with a teammate could be a recipe for disaster or a match made in heaven.
Brady Bersano, junior marketing major, and Alec Smith, junior criminal justice major, are roommates in the Colony and teammates on the California Baptist University wrestling team.
Bersano transferred to CBU last spring to be on the wrestling team, and for his first semester, he did not live with other wrestlers.
Smith, however, has lived with other wrestlers for his entire career at CBU.
"It's better to room with teammates," Bersano said. "It's nice to have roommates who are going through the same thing."
The wrestlers said their biggest concern is their morning practice.
They have to be awake and ready to practice at 6 a.m. two days a week, as well as attend afternoon practice five days a week.
"It's annoying to other roommates if they don't have to wake up so early, so it's nice to have someone on your schedule," Bersano said. "I missed morning practice last year because my alarm failed me and no one else was on my schedule."
Bersano and Smith said they are able to relate to each other on a level beyond what people who are solely roommates or solely teammates typically experience.
"We just understand each other; cutting weight, morning practice," Smith said. "When your roommate is in a bad mood, you understand why."
The two are not just roommates and teammates, but also good friends.
They play video games and watch wrestling videos in their apartment, but do not have a lot of interaction in the wrestling room.
"We get down to business at practice, but we talk more about wrestling (at home)," Bersano said.
The two agreed that it was beneficial to have someone to talk to about wrestling and who can give them insight into their practices.
The stress about morning practice is not unique to wrestlers.
Thomas Henline, freshman biomedical engineering major, and Bruno Ziger, freshman kinesiology major, are roommates in Smith Hall and teammates on the CBU men's water polo team.
They said they shared Bersano's and Smith's sentiments.
"You're not worried about waking (your roommates) up when you have morning practice," Henline said.
The two water polo players, who were assigned to each other as roommates by CBU, expressed that they plan to live with teammates for the rest of their time at CBU.
"It's just easier," Henline said. "They understand the grind."
They are not the only water polo players in their hall, which they said helps all of them get closer and bond as teammates.
Both in and out of the pool, the athletes on men's water polo are able to relate to one another, thus forming a stronger bond.
They spend a lot of time together, especially being in such close quarters in the dorms. However, they were quick to add that they have yet to get tired of each other or have any real conflict.
Henline is redshirting for this water polo season, and said it is hard for him to watch the the team travel.
However, Zinger reminded him that he is able to have the room to himself while he is gone and Henline agreed that at least he had that consolation.
Zinger said he did not see any downsides at all to being both roommates and teammates.