Men's basketball Mixes It Up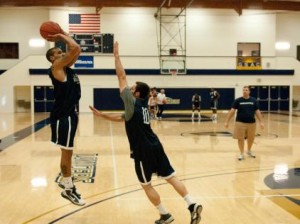 A new era of men's basketball at California Baptist University was ushered in with the opening tip off at Thursday night's season opener.
This year, the Lancers have a radically different team, as they look to make a playoff run for the seventh consecutive year. The team features nine new players, as well as four returners. Cbulancers.com is referring to the newcomers as "The New Nine."
The new players are a mix of junior college transfers, incoming freshman and even international players from Sweden and Montenegro.
The Lancers finished last season with a record of 18-13 and a playoff birth. During the season, they posted big victories over NCAA Division I opponent Pepperdine University, nationally ranked Fresno Pacific University and the Oregon Institute of Technology.
With the new mix of talent the team has high hopes for a return to the postseason as well as a deep playoff run.
Among the newcomers is Nick Paulson, a freshman from nearby La Sierra High School. At La Sierra Paulson was a three time all league selection in one of the toughest high school sports leagues in Southern California. He was also a member of the Riverside/San Bernardino County All-Star team.
Paulson is not the only new member of the CBU squad to have played on that All-Star team, as another incoming freshman, Ivan Patterson was also a member.
Brannon Bradley is a transfer from College of the Canyons, where he led the team with an average of 17 points per game last season.
Kevin Deeb is a transfer who last season, ranked fifth in the state in 3-point shooting percentage. Brett Spencer is another newcomer this year. He transferred from Cypress College and led his team in points per game with 16.3 last season.
Jon Williams is another transfer student, coming to CBU after a successful career at LA Harbor College. Williams is a Junior perimeter player who transferred to CBU rather than going with a lot of other out of state options because he wanted to stay close to family. He also liked the campus and environment.
Williams said that the teams main goals are to "Beat our rivals APU and go to Kansas."
Along with the nine newcomers, four strong returning players, Davey Hopkins, Justus Von Wright, Luke Evans, and Jordan McDaniel bring experience to the team. With all this talented new blood, the men's Basketball team is beginning to look like the National Association of Intercollegiate Athletics(NAIA) version of the National Basketball Association's Miami Heat.
The team is looking for the right mix of old and new as they will attempt to win their first NAIA National Championship this season. The next game is Saturday Nov. 6 against William Jessup University at 7:30pm.