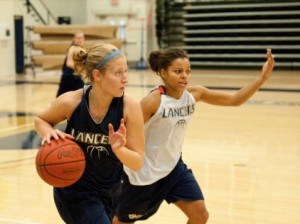 Ladies and Gentlemen the time has come for the beginning of the California Baptist University women's basketball season. The Golden State Athletic Conference (GSAC) season begins Nov. 30 at national-power Point Loma Nazarene University where the girls will finally be able to test the teamwork and dedication they have worked so hard for.
Last year's season ended with the team falling short of making it to the postseason for the first time since 2004. New perspectives, along with confidence and dedication will change that this year.
With a new coach, new teammates and new goals this year, the team has already faced some tough challenges. Only three girls are returning from last year; Brenna Hahn, Rachel McDaniel and Elisha Taylor.
Teamwork is a must if they want to reach the postseason. The entire program is having to start with a fresh new start, but McDaniel speaks for the rest of the team by saying they know what they want, and they know how much it's going to take to get there.
"Our goal is to make it to the national tournament. I have a lot of confidence in our team this year," said McDaniel. "I am excited because we are very talented and we all want to have a successful season."
Confidence seems to be a theme for the team this year. New additions, Ashley Carter and Marley Rice, both talked about how the preseason has built a strong, confident mindset that will be with them as they enter the season. Coming to a new school seems like it would be a challenge, but not for Carter and Rice.
"Every day is only getting better and better," Rice said. "We can only go up from here."
With such a drastic change in leadership and players, it is important that the girls have positive progression. It is very visible when watching them practice and interact with each other. McDaniel, one of the team leaders, can see the dedication this new team offers.
"The team this year has a completely different mindset because we are experiencing not only new teammates but a new coaching staff as well," McDaniel said. "But what I love about this team is that whatever happens on the court, it doesn't get carried off the court."
Dedication is another theme that keeps getting brought up. The girls are bringing everything they can to the team. They are offering their hearts, energy, enthusiasm and encouragement in support of the team. The girls relationship between each other is what has brought them to the level of confidence they have today. They are willing to sacrifice their time in order to focus on their priorities.