CBU bounces back from APU loss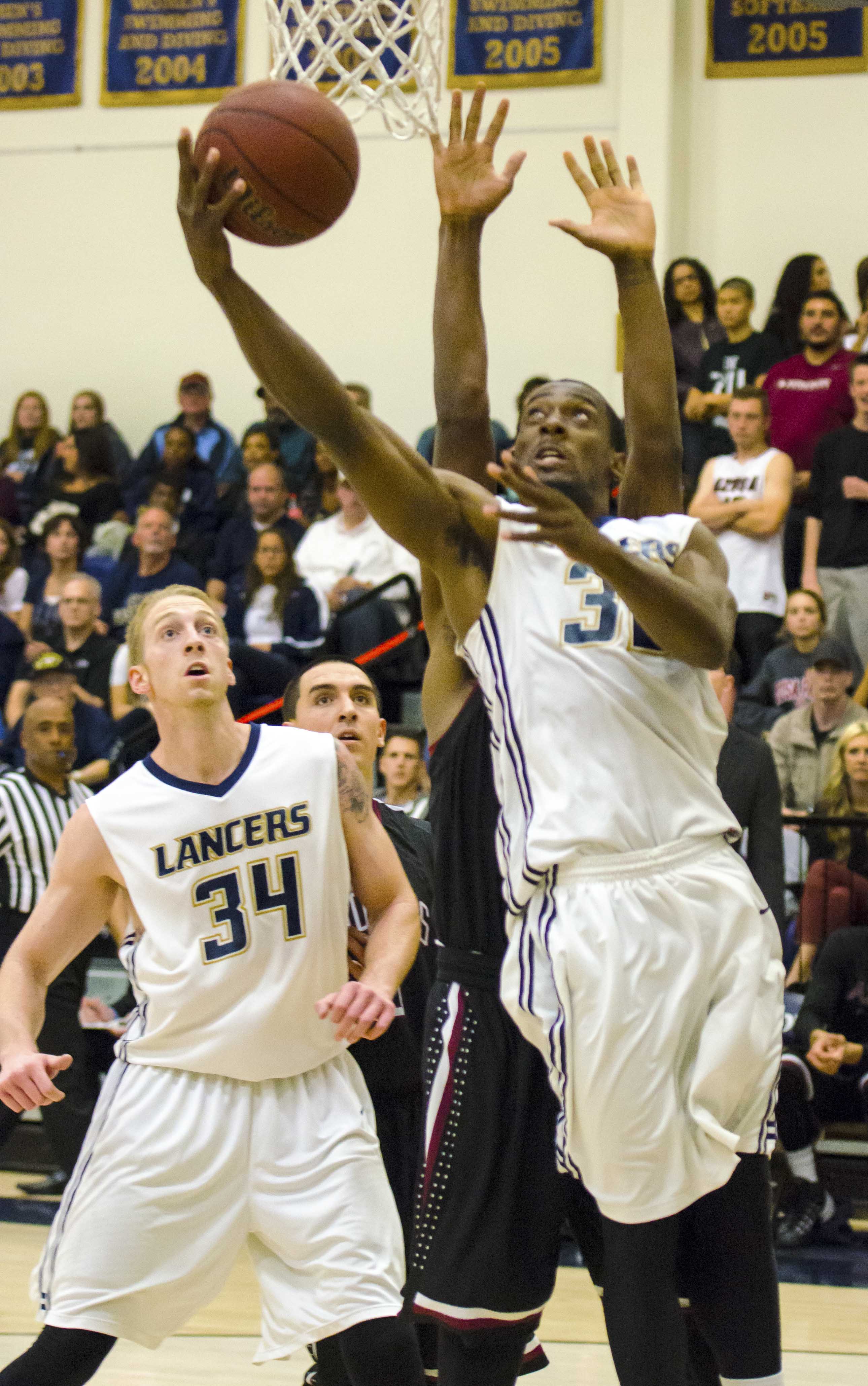 California Baptist University's basketball teams defended their home turf Feb. 8, with back-to-back wins against rival Azusa Pacific University in both the men's and women's games.
As the PacWest's fifth-place seat, the women's team won 54-46 before the men's victory of 74-55, avenging their only loss of the season to APU on Jan. 24.
"Our women won and our guys won, so anytime you can win two on a night, especially against our biggest rival, that's a great game," said Micah Parker, director of athletics. "The second half was the best defense I have seen all year."
Compared to the game at APU, the Lancers decided from the beginning that they would set the tempo.
"CBU came out in full force," said Rick Croy, head coach for the men's basketball team. "APU was great at their place, with their crowd and their students. We appreciate a great effort from our opponent."
The CBU men's team held a 16-game streak of victories this year until the previous game against APU.
"We have great respect for Asuza's program and their offensive firepower," Croy said. "To play the kind of defense we played tonight means a lot to our program. It was a great team effort (as) we had great poise from our seniors and from our young guys. Just a great collective effort."
Bryce Oldham, sophomore computer and electrical engineering major, plays guard on the men's basketball team and said he was thankful for the seniors and their leadership shown throughout the game.
"We made an effort to shut down their point guards and not give up any open threes or transition threes and just to stop them in transition in general. That was our focus," Oldham said. "We definitely made sure we played our game and didn't let them dictate the game."
Croy said he was proud of his team's focus and drive throughout the game.
"We were more locked in defensively," Croy said. "Asuza is a very good offensive team, and if you don't stay on your assignments they can really get it going and at their place we let them loose a couple times and they capitalized. Here, we were focused."
The Van Dyne Gymnasium was at full capacity, turning away hundreds of both Lancer and Cougar fans.
Since the victories against APU in January, Azusa's student newspaper, The Clause, wrote Feb. 5 that "Cal Baptist is here to stay as APU's new rival."
"We're both good, we're both Christian schools, we're both so similar in so many ways," Parker said. "I tell [students] at new student orientation, Azusa Pacific University is our rival. We want to build something healthy and competitive, but hopefully that can be a positive thing."
As the women's game ended, the Crazies rapidly began multiplying, filling the gym within minutes.
About 100 fans from APU could be seen behind their team on Saturday night.
Underneath the yellow Crazies banner, a full house of students stood ready to joust in school spirit.
"It's hard to beat us when we have our students cheering and being all loud," Parker said. "We represented CBU very well."
As the rivalry continues to grow, Parker said he is excited to see it expand into other sports.
"It's a good healthy rivalry," Parker said. "There's a lot of respect on both sides."
With the wins from Saturday, the men's team stayed on top of the PacWest with a 14-1 conference record, and an overall record of 20-1, leaving the Cougars to drop to 11-9 overall and 7-7 in the conference.
For the women's teams, the Lancers improved to 11-10 overall, with a 9-6 record in the PacWest. The Cougars fell to 14-6 overall and 12-2 in conference.
"It was a great effort from our guys and we are so appreciative of the crowd," Croy said. "Bottom line, this is CBU at its finest."