Women's volleyball team earns first NCAA berth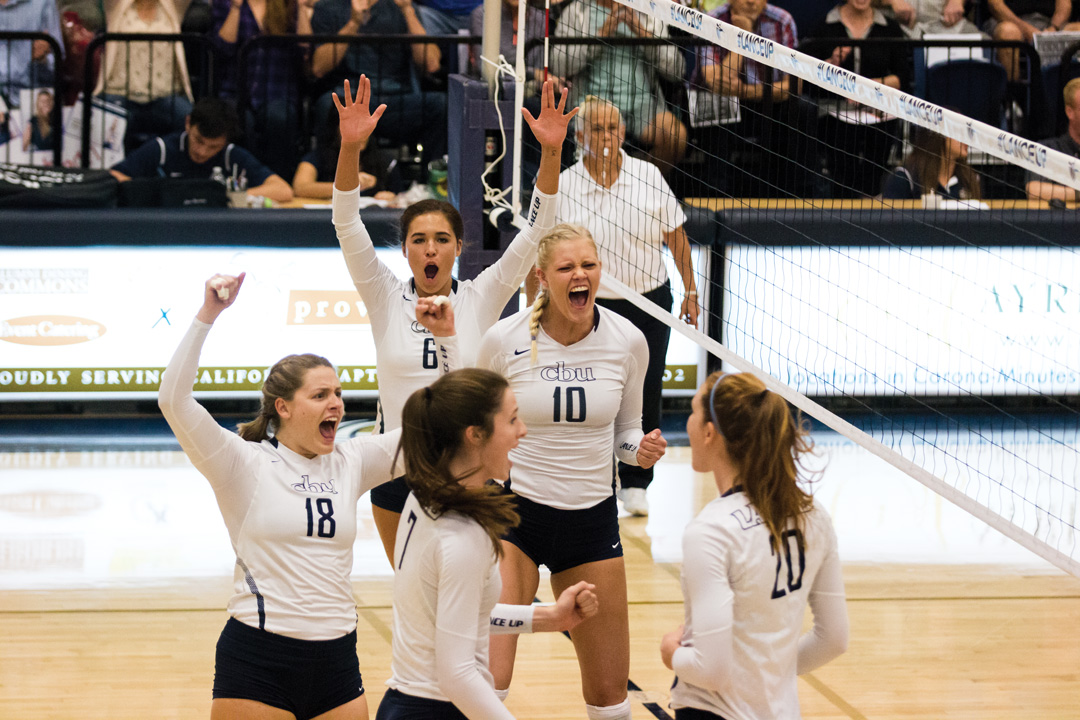 The California Baptist University women's volleyball team defeated Brigham Young University-Hawaii, Nov. 12, to reach the NCAA DII playoffs for the first time in program history.
It was one of their best performances of the season, when the fifth-ranked Lancers showed their passion and heart, beating the Seasiders in four sets, including two overtime games (22-25, 25-15, 28-26, 28-26).
Abbie Gortsema, senior psychology major and middle blocker, displayed great leadership, matching her career-high nine kills along with four blocks. She said she is elated about reaching the playoffs.
"It feels like I have reached a major goal," she said. "I have always wanted to compete in the postseason at the NCAA level and I am so glad that I finally can. My team and I set this goal more than 10 months ago, and it feels incredible to finally accomplish it."
Like her teammate, Lauren Hackett, junior graphic design major and outside hitter, said the postseason bid feels good.
"It means so much because I've seen all the work the seniors have put in all year and I love to see it pay off," Hackett said.
The Lancers headed to Anchorage, Alaska, Dec. 1, for the NCAA Regional Tournament, confident and ready to go.
"We obviously want to win the regional and reach the national tournament," Gortsema said. "We want to go as far as possible."
The team debuted in the tournament at the No. 6 seed and will open the tournament against the No. 3-seeded Western Washington University.
The teams met earlier this season where the Lancers took the team to five sets, but fell 2-3.
CBU currently ranks seventh in all of NCAA Division II in hitting percentage (.277), eighth in blocks per set (2.39) and 26th in total team blocks (255.5). CBU is also 44th in D-II in assists per set (12.45) and 46th in kills per set (13.30), according to cbulancers.com
The Lancers boast four All-PacWest athletes, including Setter of the Year in Sydney Kralj, junior marketing major.