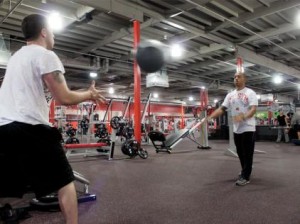 Everywhere you look there are new gyms, all vying to rope you in with a reduced membership deal, large selection of workout machines or high quality of trainers.
However, it seems very few gyms have been able to climb above the competition and offer something that is different and fresh.
The long wait could be over with the arrival of an Ultimate Fighting Championship Gym right in our own backyard. It is located in Corona at 470 N. McKinley Ave. off the 91 freeway.
It includes a range of group fitness classes as well as private Mixed Martial Arts training and Mixed Martial Arts style youth programming. The UFC gym is designed to be the ultimate workout center where you can see immediate results. According to the UFC Gym website, "The brand is not what you expect, and more then you can imagine, aiming to continue revolutionizing the fitness industry."
To say the gym is huge is an understatement, as the layout is roughly 45,000 square feet and includes a 4,330 square foot space dedicated to youngsters. It also has a gym in an octagon arena for Mixed Martial Arts, which includes kickboxing, jiu jitsu and other basic self-defense arts.
Even though the gym is primarily for working out, it also offers the Arm Bar Café, which provides members with affordable and nutritional on-site dining options.
"The opening of the gym in Corona is a major event for UFC," Senior Vice President Adam Sedlock said. "Corona is our biggest gym yet, fusing together the best of fitness, mixed martial arts all in one convenient location."
Although the gym opened on March 5, a grand opening gala is scheduled sometime in May and will include appearances by several UFC champions. You never know if Randy Couture or Ken Shamrock could make a appearance.
For more information on UFC gyms and how to sign up, bench press your way over to their website at www.ufcgym.com or call 877-2-UFCGYM.